When I first installed and tried to run RSLogix 5000 on my new Windows 10 laptop, I was met with the following ugly Fatal Error for an EXCEPTION_ACCESS_VIOLATION: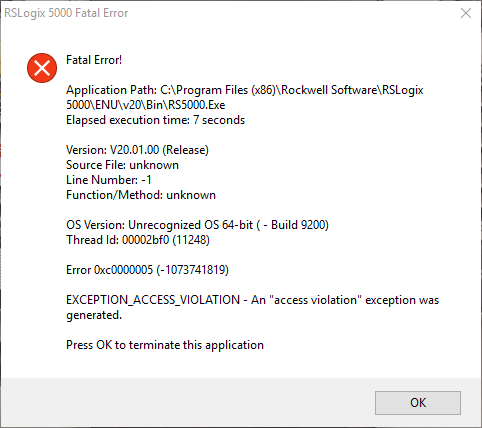 I searched through several forum posts and tried several solutions, but what solved the problem for me was running the program as administrator.
To change this setting, first right-click the RSLogix 5000 shortcut and click Properties:
In the Shortcut tab, click Advanced…
Check Run as administrator, then hit OK on both dialogs to commit the changes.
For me, this was all it took! Still having issues? Leave a comment with your situation, or check out this forum post on PLCS.net for some other things to try.
Was this post helpful for you? Take just a few seconds below to sign up for my newsletter, and I'll keep you posted whenever I make new content available. Thanks for reading!