There's some ultra-cool tech out there these days, and LED strip lights definitely fall into that bin. Kits the likes of which used to be hundreds of dollars are now easily affordable, allowing you to transform your living space no matter the budget. Whether you're looking to enhance your home or your car, the battery-powered LED strip lights on this list will help you get the job done. Have you used a product that's not shown here? Let me know in the comments at the bottom of the page!
---
Let's get right to it! Here are some great kits you can pick up for your next LED lighting project. I've only selected kits that are well-rated by their users, or that I've tried myself. I'll break it down by the different styles of LED light strip kits that are available:
---
Types Of Battery Powered LED Strip Lights
Battery Powered LED Strip Lights (Basic White)
Let's start with the simplest category of battery-powered LED light strips that you can buy. These strips are literally just a white LED light strip that is powered by a battery pack. No extra frills, no remote, no choice of colors, just the basics. These are good options if you want a simple white light that you can turn on or off from a battery pack.
Geekeep 2 Meter Cool White LED Strip Light With Battery Pack
The Geekeep 2M LED strip with battery pack is a straightforward solution for battery-powered LED lighting. Like many of the kits you'll see, this light strip's battery box is powered by 3 "AA" batteries.
Common applications for this type of light strip might include under-shelf or under-cabinet lighting. In addition, the simplicity of this kit makes it versatile enough to be a good fit for other situations. You could string it around a Christmas tree, for instance, or integrate it with your Halloween costume or decorations.
The LED strip in this kit can be cut to size for your LED lighting application. This is another feature that you'll see on many of the kits on this list.
Additionally, the strip itself is protected by a waterproof coating that will insulate it from moderate exposure to water. Specifically, the strip is IP65 rated. An IP65 rating means that the strip is protected against "water jets from any angle".
CoolBag 5 Meter Battery Powered LED Strip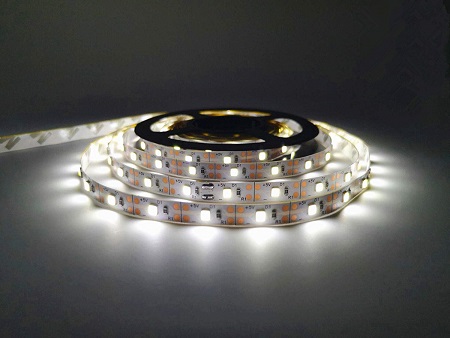 This strip's battery pack is powered by 3 "AAA" batteries. What's nice about the CoolBag LED strip is the extra-long (5 meter) strip for the price.
Virtually all of the strips on this list are installed using 3M self-adhesive backing on the back of the strip. Simply clean off the area where you want to install the strip, peel off the waxy paper that protects the adhesive, and press the strip down on the surface where you want it to stick.
Like the Geekeep strip, the CoolBag LED strip can be cut and has a water-resistant coating. Also like the Geekeep strip, the CoolBag battery-powered LED strip light can be exposed to water, but not submerged.
Dmeixs 2 Meter LED Strips With Battery Packs (2 Pack)
If you need multiple light strips of this type, the Dmeixs is an affordable 2-pack option. If you order this LED lighting kit, you'll get (2) 2M LED light strips and (2) battery boxes which can be installed separately.
Like the other basic white LED strip lights shown above, the Dmeixs strip lights are protected with an IP65-rated coating, and can be cut to fit your LED lighting application. You'll need 3 "AA batteries to power this kit.
Battery Powered LED Strip Lights (RGB)
This next kit is very similar to the basic white LED strips above, with one big exception. This kit has an RGB light strip, meaning it is able to produce a variety of colors, instead of just the white light.
iNextStation 2 Meter Battery-Powered RGB LED Light Strip
As mentioned above, the iNextStation RGB strip light is capable of producing a variety of colors and patterns. To allow you to select different effects, this LED light strip has an integrated 3-button switch.
Using the integrated switch, you can control the brightness of the light and the speed at which the pattern changes. Additionally, you can select from 20 "static" color modes (red, blue, etc.), and 21 "dynamic" modes ("flash", "waterfall", "spark", etc.).
This is a cool little kit for the price that will allow you to select from many colors and effects via the integrated 3-button switch. You'll need 3 "AA" batteries to make it go.
LED Light Strips That Accept Either Battery Or USB Power
These next two options have a nifty feature. They have a standard USB (USB-A) connector that you can either plug into the battery pack, or plug into any other USB port you have available.
That means you can plug these lights into the back of your TV or computer, a USB port in your wall, or use a rechargeable battery pack to power your lights. This opens up your options a bit. In particular, users of these lights often enjoy having the option to hook their LED strips into a rechargeable power pack. Let's take a look at a couple of choices in this category:
Haliang 2 Meter Battery Or USB Powered LED Light Strip
The Haliang 2 meter LED strip gets its power from a standard USB (USB-A) connector. Having a USB connector really opens up your options in terms of what you can use to power your light strip.
While you can power this light with 4 "AA" batteries in the included battery pack, you can also use any other USB port to operate your light. Many people use rechargeable power packs to be able to keep the LED strip on longer without consuming batteries.
This kit's LED strip provides white "daylight" lighting from the LED's and features an IP65-rated protective coating over the LED chips. For a custom fit, you can trim this strip on a cut line that's present after every LED.
iCreating 2 Meter Cool White LED Strip Light (Battery Or USB Power)
Like the Haliang LED strip, a standard USB connector supplies power to the iCreating light strip. For this reason, you can connect the light strip to either the included battery pack or to a USB port.
If you use the battery pack, the iCreating strip can be powered by 4 "AA" batteries. You can trim the strip on a cut line after every 3 LED's. The LED strip light provides cool white light and has an IP65-rated coating.
One nice thing about this strip is that suggested accessories are available on the Amazon listing. If you want to pick up 90° or wired connectors, mounting brackets, or a power supply, you can do so directly from the strip's manufacturer.
Customers love this kit. From more than 350 reviewers at the time of writing, the iCreating strip has a rating of 4.5 out of 5.
Battery Powered LED Light Strips With Motion Sensors
A very common feature for battery-powered LED strip lights is motion sensing. Battery-powered LED strips with motion sensors can be used for a ton of applications, including:
Reach-in closet lighting
Linen closet lighting
Under-bed lighting
Cabinet lighting
As a night-light for the bathroom or hallway
There are surely a million things you can do with battery-powered LED lights that have motion sensors. Without further ado, here is a great option from this family of LED strip lights:
AIMENGTE 3 Meter LED Strip Light With Motion Sensor
There are a lot of battery-powered LED strip lights with motion sensors out on the market. With that said, I think it would be difficult to find another reliable 3 meter LED strip with a motion sensor at this price.
I've personally used this LED strip light for a closet lighting project, and I am very happy with it, especially for the price. Four "AAA" batteries power this light strip via a compartment on the motion sensing controller. The motion sensing controller is a small device that you mount with the included 3M tape. Basically, you find a spot where it can sense your presence, and stick it to the wall or shelf.
On the controller, you can select "always on" or "motion controlled". Additionally, on the motion controlled setting, you can choose whether you want the device to activate any time it senses motion, or only when the room is dark. Lastly, you can configure the timer for how long the light will stay on after it senses motion. A small rotary selector on the side of the controller lets you set the off delay.
This light comes with IP65-rated LED strips and can be cut to fit your space. As I mention, I used this LED lighting kit in my own home and have been very pleased with the results. If you don't need a 3 meter LED strip, you can actually pick it up with a 1 or 2 meter strip for even less.
LED Push Lights (Battery Powered)
Next up, push lights are lights that are typically used under cabinets or shelving. This type of LED lightstrip has an on/off switch that you push to activate, hence: push lights. These are nice for when you want to be able to turn a light on or off at will, and don't necessarily want the light to turn on every time you are moving near that area – or to turn off while you're still working.
In this category, there's one clear winner: Luminoodle LED Push Lights.
Luminoodle LED Push Lights
Power Practical, based in Utah, is the company that created the Luminoodle LED light strip series. Luminoodle LED strips are a pretty popular brand, and stand out in the market for television bias lighting.
Three "AA" batteries power this LED push light (also referred to as a tap light or click light), which comes with a 3 foot long LED strip. The large push button makes it easy to find the light switch when you reach under your shelf or cabinet to turn the light strip on.
Designed to provide nice, white light under your shelves and other workspaces, this LED lighting option is available in either daylight or warm white. If you need several of these, you can spend less with the 3-pack:
Battery Powered Led Light Strips With Remote Controls
Next on the list are LED strip lights with remote controls. While you'll often need to physically interact with battery-powered lighting, it is nice to be able to control your device remotely. For instance, if you're using an LED light strip as accent lighting or to illuminate your entertainment center, it's nice not to have to get up every time.
Let's take a look at two LED lighting kits that come with remote controls:
WOWLED Battery-Powered RGB LED Strip Light With 24-Key Remote
If you're looking for a battery-powered, multi-color LED strip that you can control remotely, you can't beat this kit for the price. This kit is ultra-affordable and comes with a 1 meter RGB LED strip, battery pack, and a 24-key remote.
Using the remote, you can turn the lightstrip on and off, control the lightstrip's brightness and color, or set it to 1 of 4 dynamic modes and control the mode's speed.
Like many other LED strips, you guessed it – the strip comes with an IP65 coating that protects the strip from contact with water. Additionally, you can cut the light strip down for custom sizing. You'll need 3 "AA" batteries to power this WOWLED lighting kit.
Barhootao 1 Meter Battery Powered RGB LED Light Strip With Music Sync (2-Pack)
Barhootao's 2-pack of 1m RGB LED light strips comes with a remote control and battery pack for each 1m LED strip. What's cool about this kit is that each strip has a built-in mic.
Using the built-in mic, the LED strip will pulse along with your tunes when set to music mode. This is a pretty cool feature if you want to be able to use your LED light strips for parties and get-togethers. Additionally, the Barhootao strip has 4 different music modes you can choose from for different musical settings. You select the music mode using the remote control.
You'll need 3 "AA" batteries for each of the two 1m strips in this kit. Additionally, the light strips feature an IP65-rated water-resistant coating over the LED's, and you can cut them after every 3rd LED for a custom fit.
The Barhootao 2-pack is another kit that customers think highly of. This 2-pack has a steady 4.5 out of 5 rating from more than 100 reviewers (at the time of writing).
Decorative LED Light Strips, Fairy Lights, And Rope Lights
This last category showcases some decorative LED string lights, fairy lights, globe lights, and more. These lights could be used inside or outside of your home, but also might be used to decorate for special occasions and events such as weddings, parties, and holidays. Let's take a look!
Dukora LED Fairy Light String
Dukora makes a battery-operated 3 meter LED fairy light string that you can pick up for just a few dollars. This is a very simple kit and comes with just the battery pack and 3 meter fairy light string.
Despite its simplicity, the battery pack actually offers three settings: on, off, and timer. If set to the timer mode, the light will stay on for 6 hours before turning off automatically.
Fairy lights can make a really nice touch for special events, or even for decorating around the house. Check out some of the pictures on the product page to see for yourself; this LED lighting kit can add a really pleasant and magical effect.
The Dukora fairy lighting kit takes 3 "AA" batteries. Nearly 100 Amazon customers reviewed this product favorably.
MANLI LED Wine Bottle Lights (8-Pack)
If you have some serious decorating ahead of you, you might want to take a look at this 8-pack of LED wine bottle lights from MANLI. For the price, this wine bottle lighting kit has the best cost per strip on the list.
While this LED strip would work fine as decorative or fairy lighting in a variety of applications, the battery pack is the size and shape of a cork. In other words, you can actually use these in 8 empty wine bottles to make an impressive display for a special event.
In order to accommodate the cork-sized battery packs, these LED lights use 3 LR44 watch batteries per light strip. Little batteries like this can be pretty expensive if you pick them up at the store, so it might be worth grabbing a couple packs of LR44's off Amazon to save some money.
Dillitop Battery-Powered RGB LED Fairy Lights
The Dillitop LED lighting kit comes with two 5 meter LED fairy light strips and a 28-key remote. Each light strip has its own battery pack, powered by 3 "AA" batteries.
With the 28-key remote, you can set each LED light strip to 1 of 16 colors, choose from one of four dynamic modes, control brightness, and set a timer for how long the lights will stay on before automatically turning off.
This kit is great if you want two long (5 meter) RGB fairy light strips for a reasonable price. You can mount and control each 5m string and battery pack independently.
Glandotu 3 Meter LED Globe String Light
For a beautiful decorative effect at a great price, the Glandotu battery-powered 3 meter globe string light is an excellent option. The 3 meter string has 20 warm white LED globes to illuminate your room or special scene.
The lights themselves are IP67-rated, while the battery box is IP44. You could mount this kit outdoors, but you would need to make sure the battery box is not submerged. An IP44 rating means that the battery box can be splashed, but not submerged or sprayed directly with jets of water (as from a hose).
Like many of the other kits, you'll need 3 "AA" batteries to power this LED light strip. This kit actually comes with a 1-year warranty, which is pretty good, considering the low cost of this light strip. Of the reviews this product has received so far, they've all been favorable.
Kreatur 5 Meter Battery-Powered Photo Clip String Light
This little LED lighting kit from Kreatur is awesome for weddings, anniversaries, going away parties, or any other events where you want to hang a lot of pictures. Or, if you're the type of person who likes to hang photos in your room, this might just be something great for the bedroom. Five meters and fifty lighted LED photo clips allow you to showcase a ton of photos.
This LED light strip is IP44-rated and so is more suited for indoor use, but of course you probably don't want it raining on your photos, anyway. You'll need 3 "AA" batteries to power the warm white LED's on this string light.
Ollivage 40 Foot Color-Changing LED Rope Light
Tough to beat 40 feet of LED rope light with a 13-key remote for this price. The Ollivage LED rope light features 8 lighting modes and 10 brightness levels. The rope light itself is IP67-rated, with an IP44 battery pack.
Powered by 3 "AA" batteries, you can save battery life by using the timer function on the remote. This kit features a 12-month warranty, which is a nice insurance policy to have on a product at this price point.
If you need two of these, you can click the 2-pack on the product page to save a few dollars on the bulk purchase.
Additional Info
Further Reading On IP Ratings
I'm familiar with the concept of IP ratings, but as I put the list above together, I found myself referencing a chart online to understand specific values. FlexFire LED's has an awesome, concise reference on IP ratings that I found very helpful.
Stay Tuned For More
I really hope the list above helps you to select some fun or functional LED lighting products for your next project. If this sort of content is up your alley, then sign up for my newsletter! I'll keep you posted when I have similar info available in the future.
Thanks for reading! Tell me about your own LED lighting project in the comment area just below! 🙂