We were packing for our family vacation a couple years ago when my wife, Sarah, surprised me with news of her new purchase. I asked her if she'd grabbed "the JBL", our well-worn Bluetooth speaker, and she said, "I have something better!" My father-in-law, Andy, is a bit of an early adopter, and so he couldn't pass up a deal he found online for $100 off the purchase of two of Amazon's Echo Show. Sarah, who also loves cool toys and can't pass up a great deal, went in on it with her dad. So, two years later, what do we think of this product? Check out our 1st Gen Echo Show review below.
Whether you're just starting off in your home automation journey, or you're at any other level, Amazon's Alexa-equipped Echo products can be a game-changing addition. The first-gen Echo Show is a really fun device, featuring all of the capabilities of Amazon's Alexa and the Amazon Echo or Echo Dot, but with a 7″, 1024×600 touch-screen display.
1st Gen Echo Show Review – Why We Love Our Echo Show
Echo Show As A Voice Assistant
After the easy setup process, we went right for the video functionality, trying to appease our 3-year-old's desire to hear HandClap for the millionth time. Alexa was our first voice assistant, and it sure is cool that first time you can simply ask Alexa out loud to "play HandClap by Fitz and the Tantrums on YouTube."
First Gen Echo Show As A Music Player
After downloading the Alexa app on our phones, it was easy to link our Spotify and Pandora accounts. You can then use the phone to select stations, skip, etc. through the Alexa app. Just a moment ago, while sitting upstairs at my desktop, I opened Spotify on my phone, selected Sarah's Echo Show as my playback device, and turned up Echo Show's volume through the Spotify app – and I can hear the music clearly, across the house and one floor up!
Echo Show Has Skills
We instantly loved how easy it is to connect new skills to the Echo Show through the Alexa app. Our first download was Quick Remote, which we used to select channels on the Roku via voice command. The second Skill we ever added was Tell Lord Vader, which we used for the lolz.
Echo Show For Home Automation
Amazon (and other manufacturers, like Google Home) has done something brilliant. They've taken a voice assistant and made it easily integrate with other home automation equipment.
One of my hobbies is continually adding on to my home automation equipment and setup. In fact, that's one of the focuses of this blog! I do have some some dummy motion sensors that simply turn certain lights on or off. Aside from those, all of my home automation equipment is integrated with Alexa.
Here are some of the devices I have installed in my home:
My remaining Iris components that SmartThings is able to control 🙁
Amazon, Iris, and Gosund Smart Plugs for easy control of lamps throughout the house
Literally all of that gear is integrated with Alexa. Amazon makes it so easy. You install a device and set it up with its native app. So, the Samsung gear gets set up with the SmartThings app. The Shelly gear gets set up with the Shelly Cloud app. Then, you add that app's Skill to Alexa, link the account, and boom. Now you're able to control all of the devices with the 3rd-party app through your First Gen Echo Show. This is awesome for 3 reasons:
Voice control of devices that would otherwise not be voice controllable
You can control all of the devices from within the Alexa app
You can integrate devices from different manufacturers in Alexa's Routines, Alexa Guard, etc.
To me, if you're getting into home automation, some type of voice assistant is a must-have.
Echo Show Helps You With Your Tasks
Alexa can help you organize your day with to-do lists. My wife regularly makes use of Alexa's timer while cooking. It's nice for her to be able to start a timer, hands-free, simply by asking Alexa to "start a timer for ten minutes."
1st Gen Echo Show For News And Stories
When left idle, the Echo Show's scrolling news feed can provide a source of entertainment and updates on what's going on in the world. Alexa's news feed seems to feature a lot of cool and quirky stories along with more important current events.
Echo Show Helps Protect Your Home
I really like one of Amazon's recent additions, Alexa Guard. Alexa Guard monitors your home for sounds like glass breaking or an alarm going off. Additionally, Alexa Guard can also make it look like you're home with Away Lighting, which turns lights on and off that you've integrated with your Echo product.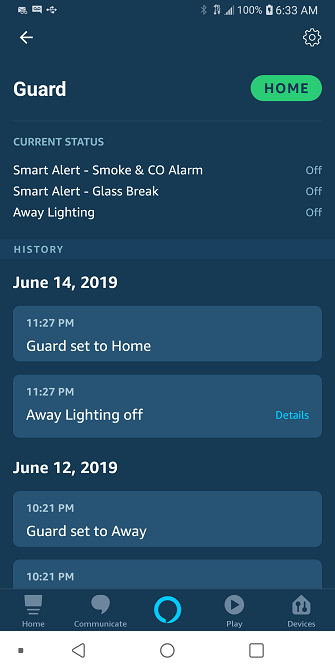 First-Gen Echo Show For Video Chat
One of the coolest features of the Show is the ability to make video calls to and from other Echo Shows and mobile devices. Soon after our purchase of the 1st Gen Echo Show, we went on a family vacation. Having just picked it up recently, we decided to bring the Show along with us. Once we had settled in at our destination, we set up the device on the kitchen table and asked Alexa to "call Papa". Papa, of course, is my father-in-law (Papa from my daughter's point of view).
My daughter loved being able to see and talk to her Nana and Papa, and the 7″ screen and robust speaker make it very easy to communicate, even if you step out to the next room. Over time, my daughter has gotten the hang of interacting with Alexa pretty well. She will now occasionally blow up Nana & Papa's Echo Show with unsolicited video calls.
Drop In
Another cool feature – something that I haven't seen on any other device – is the ability to "Drop In" on an Echo Show. If you choose to authorize someone on your contact list to Drop In, they can press the "Drop In" button on the Alexa app (or ask their Echo Show to drop in on yours) to start an instant video call between your Echo Show and the authorized device. We found this helpful on vacation when I was down at the pool, as I could speak briefly with my wife without her having to answer the call.
After Two Years, What Do We Mainly Do With Our 1st Generation Echo Show?
Music Player
We most frequently use the Echo Show as a music player. Ours sits on the baker's rack in our kitchen, close to the kitchen table. When we are having dinner, hanging out in the evenings, or even when we're cleaning up throughout the day, we'll put on a station on Pandora or Spotify for some background music. We've found that turning off the TV and putting on a little music can even help us to get the kids in a good mood to help us clean up!
Setting Timers
My wife loves to cook and cooks almost every day, if not multiple times a day. She is constantly asking Alexa to set timers for her as she works. What's so helpful about having a voice assistant for this is that she can set a timer seamlessly.
Sure, there's nothing wrong with setting a timer on your phone, the microwave, etc. But you have to stop what you're doing, pull out the phone or go over to the microwave, punch in the timer duration, and then potentially have to wash your hands before going back to what you were doing. With a voice assistant, you can set a timer as you continue to work. So, I would say the timer feature alone has surely saved my wife hours of interruptions over the course of the last two years.
Video Player / Video Chat
As I mention above, our daughter still loves that she can call and talk to her Nana and Papa on the video chat. When our nephew comes over, he'll often sit over at the Echo Show and play YouTube videos for the younger kids.
Keeping Lists
My wife also likes to use her 1st Gen Echo Show to keep her grocery lists. If she realizes she'll be out of something soon, she simply asks Alexa to add it to her grocery list.
Was It Worth It?
All-in-all, was the 1st-Gen Echo Show in this review worth it? We definitely think so! I think it's fair to say that we use ours every day that we're home. It is really cool to have around the house and can add a little fun or ambiance for everyday life and get-togethers. While I wouldn't necessarily set up the JBL to play some music from my phone in the evening, it's nothing for me to simply ask Alexa to "play Frank Sinatra radio on Pandora" for a little bit of background while Sarah is cooking dinner.
Beyond the convenience of playing music, setting timers, and keeping lists, Alexa's voice control is our primary home automation interface. Alexa helps us get ready to watch TV, turn on lights for guests, or shut everything down at the end of the night.
So, that's our two cents. Have you used the 1st-gen Echo Show? Did you choose to upgrade later on? Share your experience with other readers in the comments below!